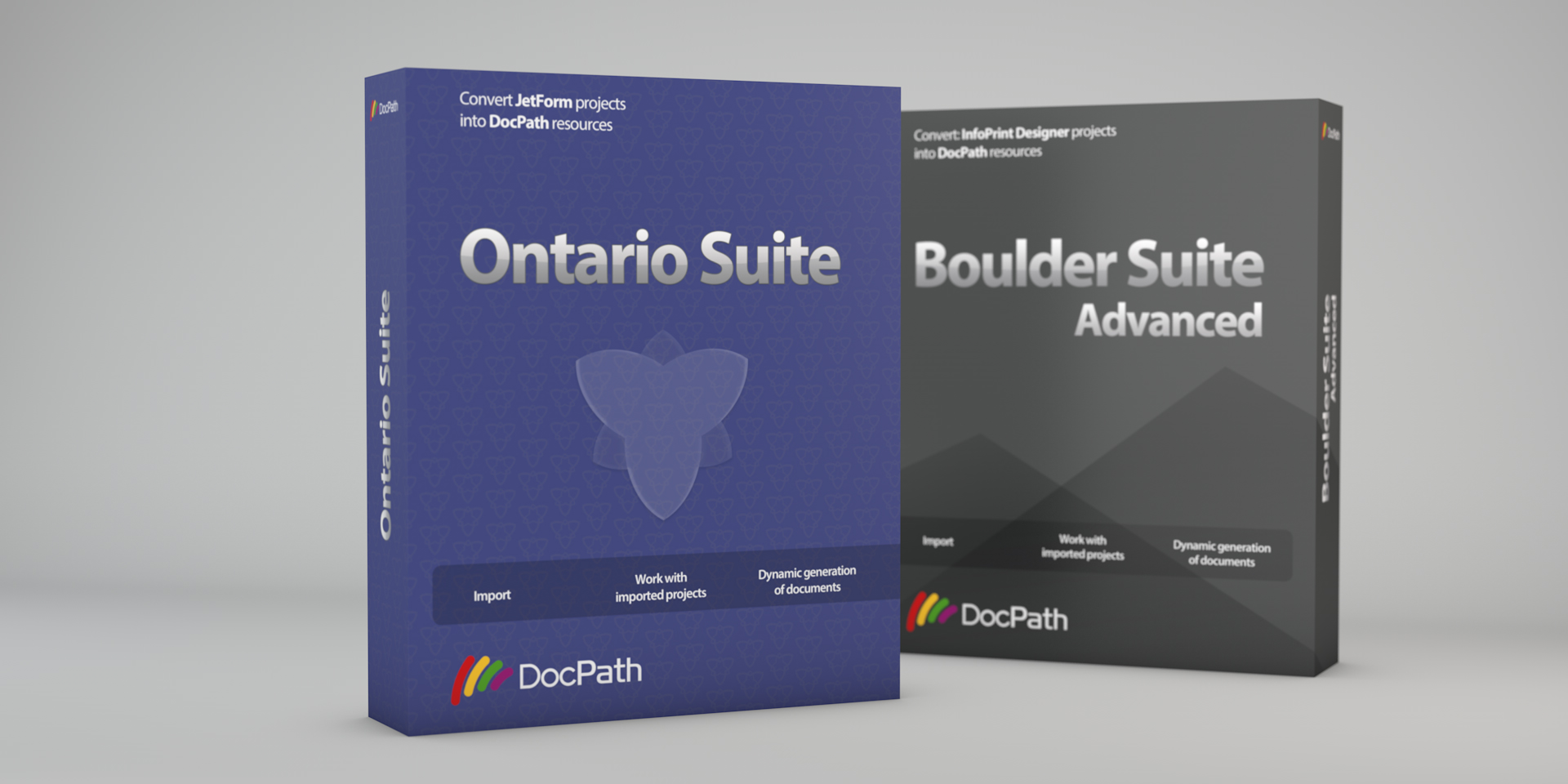 DocPath Ontario Suite is an advanced document software solution that offers JetForm users a fast and secure migration path towards DocPath technology.
DocPath Boulder Suite meets the migration needs of IBM InfoPrint Designer and IBM Advanced Function Printing Utilities users, in addition to providing a wide array of additional benefits.
Suwanee (GA), July 27, 2016 — DocPath has always been sensitive to customer needs, developing document solutions that enable clients to keep pace with new technological developments while also meeting current business requirements. As such, DocPath is also responding to the demands that are currently being presented by numerous companies and organizations around the world, involving trusted and satisfactory replacement of out-of-maintenance software applications.
Many legacy document software systems are still alive because of their distinct features and excellent pedigree. However, over the past few years, some of these highly successful legacy software packages have entered a definite sunset, since their maintenance and support has been terminated. This situation is leaving companies in the dark in terms of how to continue business-critical document operations, as no follow-on solutions are being provided.
JetForm is a clear example of these types of document software products. The software was created more than 3 decades ago by a company of the same name, which was later changed to Accelio and finally to Adobe Central Server. No significant changes were included by the last JetForm-owning company, which led to JetForm product support services being officially terminated on June 30, 2016.
This is precisely where the latest DocPath Ontario Suite solution makes the difference, offering customers that are still running JetForm document software a smooth and safe migration path through which all existing resources can automatically be converted and applications do not require any modifications to continue normal operation. The wide array of new features, which were not included in the previous software, turn DocPath Ontario Suite into the ideal solution for document software migration. Up to today, more than 20,000 forms have been successfully migrated at dozens of important international banks, insurance companies and other industries, which have relied on DocPath´s technology to replace their legacy JetForm software.
Another example are IBM InfoPrint Designer and some versions of IBM Advanced Function Printing Utilities – both document software solutions are no longer being supported by IBM. With the goal of solving this technology gap, DocPath launched its DocPath Boulder Suite solution a few years ago, providing a secure migration process that not only reuses the resources, but also offers a broad variety of new options. The latest DocPath Boulder document software features allow organizations to make use of up-to-date technologies and resources, such as the Internet and low-cost desktop printers, in addition to new functions, such as 3D barcodes (QR-Code), full color support and data-driven graphics.